My homemade protein bar recipe!
With the home-made protein bar recipe that I am proposing, you would be wrong not to continue your food program because of a small hunger! You will be able to notice during the calculation of calories, that these are hyper protein bars because they will allow you a harmonization of your BMI while developing your muscles.
Making your own homemade protein bars is great if you're feeling peckish in the afternoon but don't want to fall into bad habits of snacking and sweets that will ruin all your efforts to reach your weight gain or weight loss goals.
Homemade high protein bars give your muscles a boost of protein and most importantly the recipe is simple to prepare and no cooking required. These energy bars for protein diet come from a healthy recipe that will respect your calories and macros for a diet adapted to your goals.
By making your own protein bars, you will save money and therefore reduce the cost compared to buying a store-bought protein bar.
The homemade high protein bars will be your snacks, simple to make, the preparation is a recipe for bodybuilding that will serve you both dry snack and protein snack. It will complete a protein meal with this healthy recipe for a good muscle gain.
A wonderful snack
In addition to a satiating snack, the fun part will be to choose the ingredients yourself to create your own whey protein bar recipe.
You want to make a vegan protein bar recipe, no worries, just add vegan whey and choose your ingredients accordingly.
If you prefer to choose organic products, then you can do that too. The possibilities and variations of this delicious protein recipe are endless.
In this video I offer you my recipe for homemade protein bar for less than 0.75 euros per bar, an ideal and satiating snack to keep the line without ruining yourself! Ideal for a snack or for a post-workout.
For those with a sweet tooth, this recipe can vary according to your taste and you can make your own protein bars by adding chocolate chips, dried fruit, goji berries...
Let your imagination run wild but don't forget to calculate the calories and macros if you change your whey protein bar recipe.
Find all the ingredients on the website Prozis or click on the few ingredients below:
Protein bar recipe
Here is the summary table of ingredients with the quantity to be added for a recipe of homemade protein bar to take as a snack or to consume anywhere.
| | |
| --- | --- |
| List of ingredients | Amount and number of calories |
| Organic almond milk | 125 ml= 60 kcal |
| Whey protein isolate | 75 g = 310 kcal |
| Natural peanut butter | 70g = 411 kcal |
| Honey | 10g = 30.4 kcal |
| Oat flakes | 200g = 700kcal |
| Pecan nuts | 25g = 155 kcal |
Once the mixture is mixed, take a dish and put some baking paper on it and spread the dough. Using a slightly wet glass, you can flatten the bars without them sticking. You can see the preparation in detail in the video. Recipe for 6 no-bake bars, i.e. for 1 bar less than 300 calories. (278 calories exactly)
Ideal for a snack or to help you feel full.
You can use other similar ingredients such as skim milk to make your own homemade protein bar recipe for those who are not lactose intolerant or soy milk instead of almond milk. Honey can be replaced by agave syrup, peanut butter by almond butter or nut puree. Oatmeal can be replaced by powdered oats or buckwheat or even coconut flour. And finally, whey protein isolate with casein or soy protein.
It is up to you to choose your own ingredients to add to your protein bar recipe, as long as you count the calories of the ingredients you add to your recipe. It is when you choose your ingredients carefully that you can have a low calorie recipe.
Need calibrated nutrition?
With this protein bar recipe, you'll fill up on energy and building muscle has never been easier. You can add the list of foods below to prepare your bodybuilding cereal bars with vegetable proteins:
Other ingredients to add if you wish
All seeds of the peanut family are components of the oilseed group: almonds, peanuts, hazelnuts, etc.
Maple syrup
Coconut oil
Cocoa
Dates
Sesame seeds
Almond puree
Milk chocolate chips
Applesauce
Blueberries
Raisins
Bellows rice
Dark chocolate
The banana
Coconut
cinnamon
By adding these foods composed of essential nutrients, some of which are rich in protein, they will serve to increase your muscle volume while maintaining a healthy diet. You will then be able to face the effect of the catabolism on your muscle building. In addition to the protein bars, you can also make your own cookie recipe or pancake recipe.
This high protein diet made of simple recipes will be a caloric intake rich in vitamins and minerals for a good muscle growth.
An excellent source of natural carbohydrates, proteins and fats to build muscle.
For less preservatives, you can find them in organic stores.
However, avoid making recipes that are too sweet, if you don't want to increase your glycemic index.
If you prefer to bake cakes, chocolate fondant cake is a good choice, with rice or wheat flour, egg whites, for a taste of natural flavors add a teaspoon of maple syrup, a tablespoon of soy lecithin, cranberries with protein powder and you will be full of energy. Mix it all together and put it in the oven.
Many have shared this bar recipe on instagram, If you want to do so, don't forget #teamjulienQ.
If you found this recipe useful? then I invite you to leave a comment and share it.
---
And here is a second similar video that I shot more recently.
In this video I offer you my recipe for a no-cook chocolate protein bar with less than 220 Calories with 20g of protein, 20g of carbohydrates and 6g of fat. An easy and quick recipe and especially ideal for a protein snack both in dry and in mass gain. Ingredients:
Whey protein, Peanut butter, Agave syrup, Oat flakes, Chocolate chips
To take with you everywhere, to the office, to school, to sport... You can vary your recipes with different ingredients such as banana, cashew nuts, honey, Greek yogurt or cottage cheese. Don't hesitate to share your own healthy recipes for a sporty and balanced nutrition.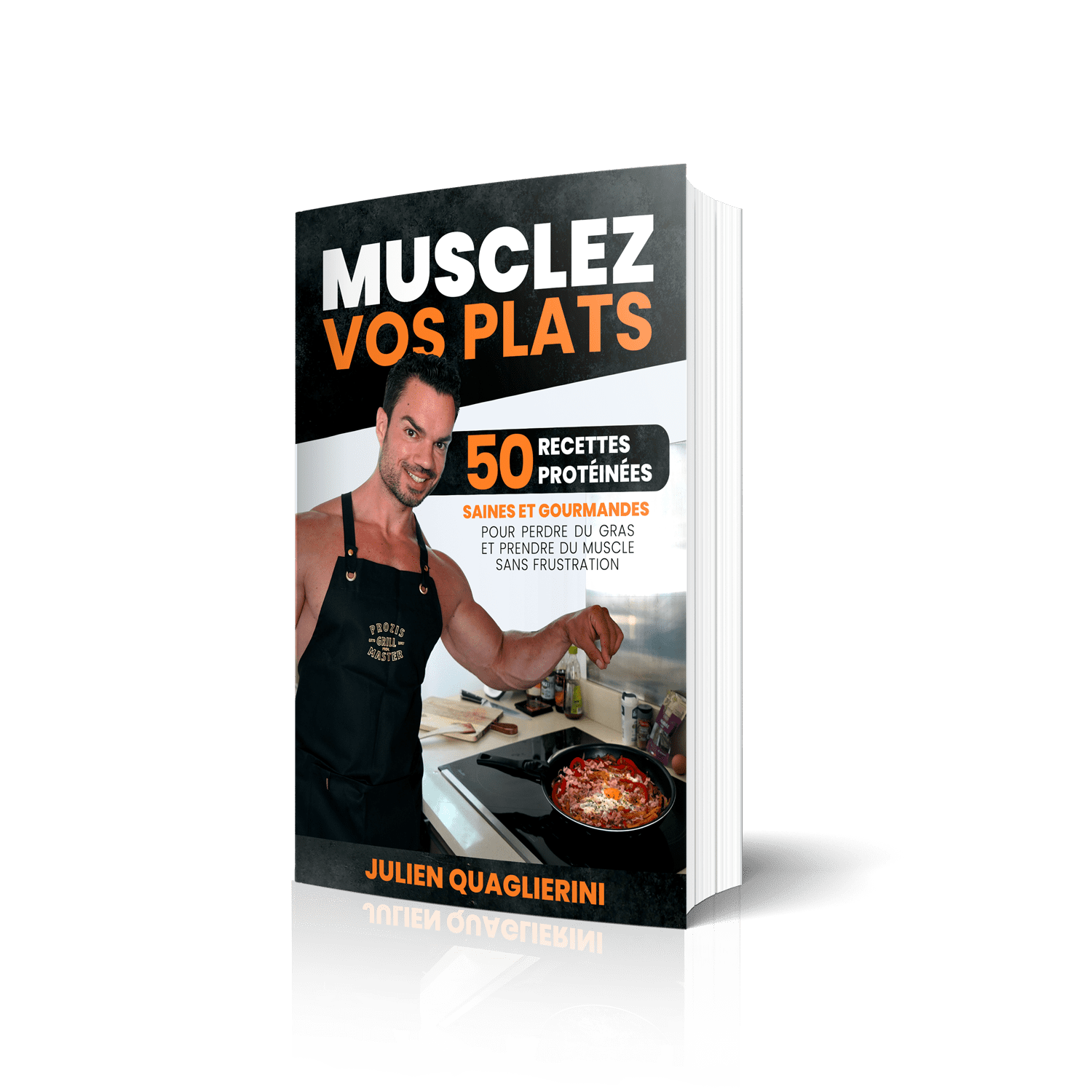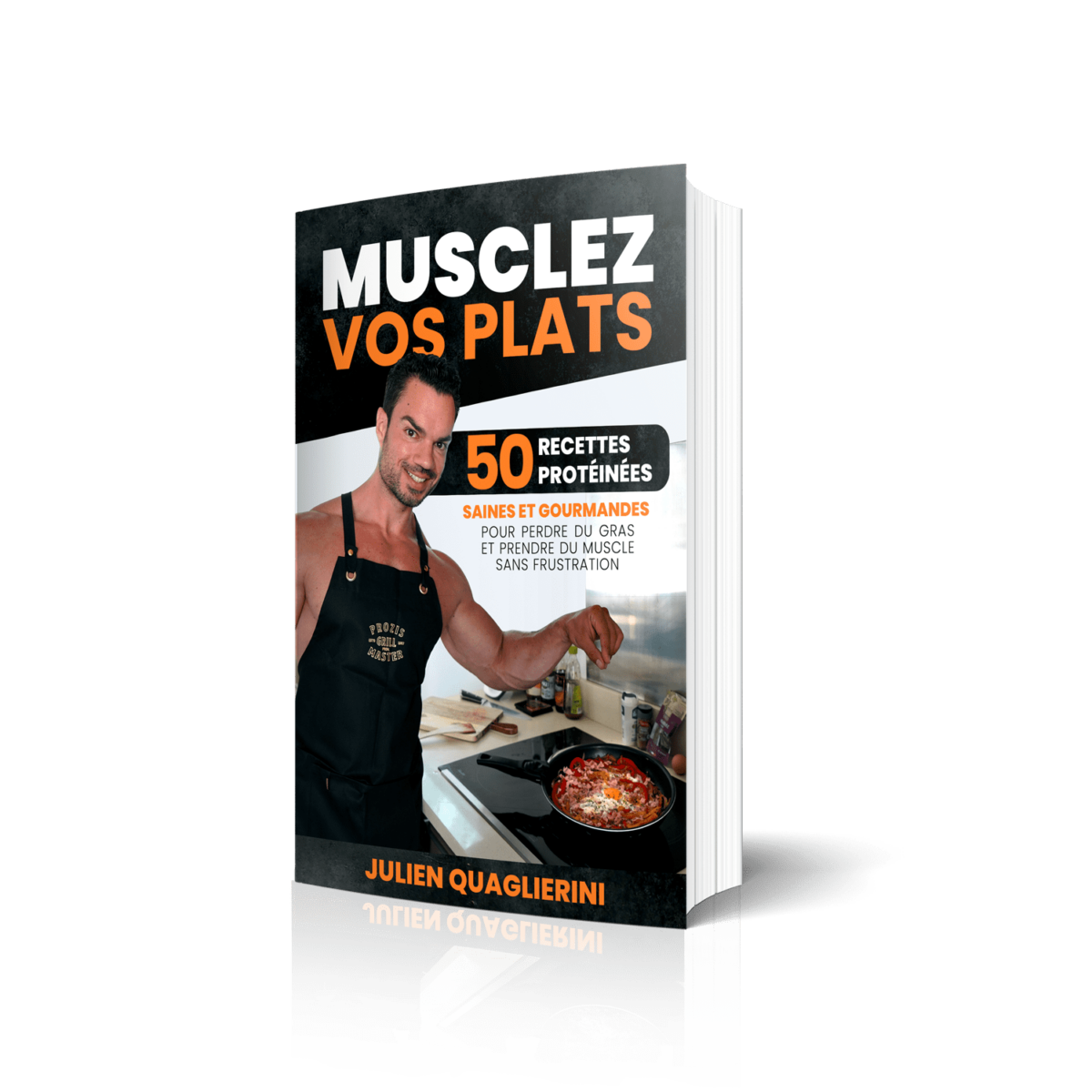 DISCOVER MY E-BOOK OF RECIPES
---
See also:
5 protein snacks to take with you everywhere
What is the importance of nutrition in bodybuilding?